The Chemistry of Tattooing : Business Edition
Topic : Russian Roulette with Client Contacts
Speaker : Amy Shandick
@preciselyveiledtattoo
www.Preciselyveiledtattoo.com
Cost : $50 (cash/credit)
Date/Time : Friday March 17th 1p Meet By Stage
Location : Villain Arts : Chicago Tattoo Arts Convention
***If youd like to prepay for this seminar, please email me at preciselyveiledtattoo@yahoo.com
.
What the seminar will cover :
–Communication and Guidance/Business Management
As an artist, our contact with clients dont end at the finish of a tattoo. Rather, that is now our client and as long as lines of communication are open, that potential source of income should be maintained. Whether that client returns in the future for more work or recommends another client, as long as you, the artist, are in thier mind, they will be a source for potential job security. This is in reference to actual tattoo work and social media promotion.
.
–Time Management/Client Communication/Organization
If you coordinate your existing clientele in an organized manner, you will have a higher amount of repeat clients simply by having better communication with them. Naturally this will help you book out in advance creating somewhat of a standby list. I will completely go over this during this seminar.
.
–Time Management/Client Training
When you are booked in advance, the walk in clients then should be guided as when to come in when you arent tatttooing or prepping for a different client. I will help you build a potential system in which to make this work. A busy prebooked artist is always a good sign and naturally attracts more clientele.
.
Most tattoo artists are not trained to do the business side of our business. They are the most amazing artists and can create the most insanely gorgeous pieces, but when it comes to client communication, business organization, time management, and social media promotion, it all feels like TOO MUCH!!!
.
Well, it doesnt have to feel like that. No need to shut down. Attend my seminars to begin to get a grasp on all of it.
.
It is highly suggested to bring something to write with and on to take notes.
There will be time during and at the end of the seminar for questions as the whole thing will go in whatever direction the discussion takes us.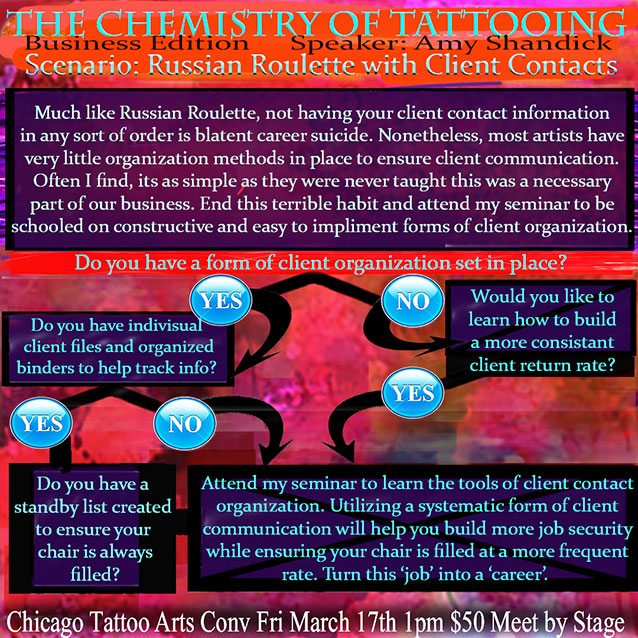 Color Theory in Tattooing by Bryan Sanchez M
Many artists in the tattoo industry have learned their techniques by replicating what they saw from their mentors, or empirically from other tattoos they saw. This path has lead to many artists repeating tried and true "formulas", without really knowing the reason these choices make their tattoos "correct": They simply line and color.
This seminar starts off by reinforcing the fundamental basics of all artistic work. We will look at color theory and how it relates to the tattoo medium. You will learn you don't need 628 inks in order to create a powerful color palette. You will learn how this applies to working color on skin.
Through academic fundamentals, references, and the experimentation process, this seminar seeks to open the artistic spectrum to artists of all mediums. Whether you are a painter, a tattoo artist, or just interested in learning more about art theory, you will learn not to tattoo in a watercolor style but rather to find the best way to build an artistic style.
Attendees will receive:
PDF material with Color theory contents and certificate of attendance.
Attendees will need: Notebook to take notes.
Attendees are welcome to bring brushes and watercolors or acrylics with basic colors.
PRICE: $100.
TIME: 3HS.
Sunday 11 AM
Email to sign up: ink@bryansanchezm.com
A Conversation with Dan Dringenberg
For the last 25 years Dan Dringenberg has built himself a reputation for machine building that has spread across this globe.  This seminar will focus on the fundamentals of what makes a "good" tattoo machine.  He will discuss differences in machine frame designs and structures, techniques behind what goes into making them, how to tune machines to your personal specifications, and basic maintenance. This will be an open discussion seminar so come prepared with questions and feel free to bring in your own machine(s) that you have personally built or others in which you would like to have tuned.
Length of time: 2 hours
Price: $150 per person
Date: Sunday
Time: 2 PM
Facebook page: Dringenberg Tattoo Company
Instagram: @dringenbergtattoocompany